Top 10 Best Cheap Cars To buy In Kenya
Take a closer look at Kenya's car market to know which cars are affordable and most popular now. Although there are numerous car models and car brands, you will always find only a few models that are most common and appear everywhere in big cities like Nairobi, Mombasa or Nakuru. To help you get your own set of wheels, we have come up with a list of cheap cars in Kenya that are very affordable to maintain.Let's take a look at them and find out which is the right for you.
Top 10 Best Cheap Cars To Buy In Kenya
Finding 
cheap affordable car in Kenya
 will not be a hard consideration if you read the information of 10 cars below carefully.
1. Honda Fit
Honda Fit (as known as Honda Jazz) is a good choice for people who like subcompact car class. It is a small hatchback with 5 doors, ample room and more space suitable for any weekend trip. Honda Fit engine ranges between 1.2 litres to 1.5 litres, therefore, this car is very fuel efficient.
This car is famous for its strong reliability, high safety scores, excellent cabin space and a wide range of available features. Honda has produced 6 versions of Honda Fit and all versions are always preferred by customers all over the world. The latest versions of Honda Fit have a larger 7-inch touch screen that gives drivers access to many familiar smartphone applications which allow them to start, lock or unlock their cars without removing the car keys from their pocket.
2. Toyota Vitz
Toyota Vitz (or Toyota Yaris) was produced since 1999 by Toyota (a famous Japanese automobile manufacturer) to replace the aging and dated Toyota Starlet. In the line of three or five-door hatchback subcompact cars, the Vitz is designed with a wide rage of engine and transmission choices. Toyota Vitz is usually front-wheel drive, but in later generations, an AWD option was added. Two of the best things about Toyota Vitz is its fuel economy and reliability. Another great attractions of Toyota Vitz is that it is a small car suitable for a small family with sporty exterior.
If you like its features, go for a Toyota Vitz.
Check out this video to have an overview about Toyota Vitz:
3. Nissan March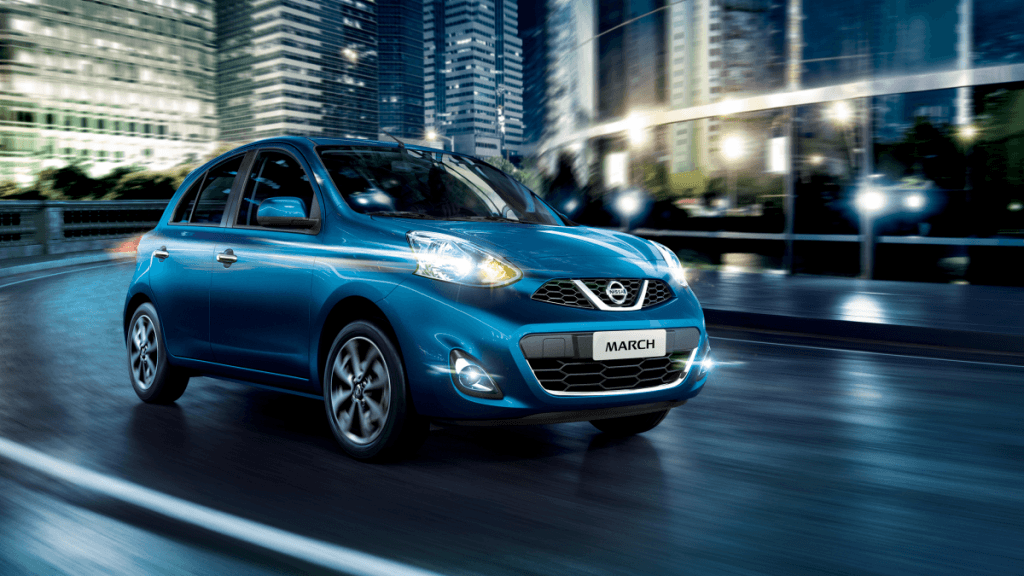 Nissan March (or Nissan Micra) is a supermini produced by Nissan ( an automobile manufacturer coming from Japan). The reason why car manufacturers produce small cas is to save space and fuel. The Nissan March does both saving space and fuel perfectly. The car looks quite small but its interior is very spacious and is just right for a small family. With a Nissan March, you can easily fold down flat the rear seat to create more space for accommodating cargo in.
Nissan March engine: 3-cylinder, 1.0L to 1.5L and low fuel consumption (up to 21 Kmpl), low weight.